School is about to start and everyone is talking about school supplies. Most of the lists I've seen are something like this: pencils, glue, notebooks, erasers and Clorox Wipes.
Hold up – Clorox wipes? I stared at my list and wondered why this was there. I remember seeing on the Clorox wipes containers that these wipes are not meant to be used by children, so why are they listed as a school supply?
If an adult wants to use Clorox wipes that's one thing, but if they're meant to be used by children, that's a firm NO. And not because I said so, but because that's what it says on the label.
When I saw that my children's school requested this, I went ahead and ordered a safer alternative. I decided I would also talk to my child's teacher and principal about safer alternatives for children.
I am not one to make a big deal about these things. But then, I started seeing so many moms posting in Facebook groups about their schools asking for Clorox wipes and that's when I felt compelled to write this post.
First of all, if you are concerned about children handling disinfecting wipes you should be (based on what the label says – see picture above). But, if you want your school to change this, first you have to be kind to the staff. They probably haven't read the label or aren't aware that this product is not meant to be used by kids.
Don't be a demanding parent that barges in mad over this. Changes are made when you are kind, when you show data and science and when you offer alternatives. This post is your guide to approaching your school about replacing Clorox wipes.
So, what's wrong with Clorox wipes?
Let's keep things simple and just look at the label. It clearly states that this product is meant to be kept AWAY from children and what's more interesting is the directions.
You can see the full label here but I wanted to share with you what stood out the most for me:
Directions for Use: It is a violation of Federal Law to use this product in a manner inconsistent of its labeling.
Ok, so clearly this label needs to be read by everyone if the directions start this way.
The label states that if you're using this product to sanitize (which is the reason schools want it) you are supposed to rinse the surface with water AFTER using a Clorox wipe, especially if this surface comes in contact with food. And that you should wash your hands after using this product.
Now, how many of you have used Clorox wipes this way…?
Let's go back to the label – below the directions it has a big CAUTION section and this is what it says:
Precautionary statement: hazards to humans and animals.
Caution: Causes moderate eye irritation. Avoid contact with eyes or clothing. Wash thoroughly with soap and water after handling.
The Environmental Working Group gives these wipes a bad rating, meaning they contain ingredients which can be harmful to humans. If you're wondering how they rate products, here's more information directly from their site:
Using the extensive data collected and organized on product attributes, ingredients and toxicity, EWG created a scoring system to give consumers the best information available to make informed, healthy choices. The system analyzes toxicity and hazard information relevant to human health and the environment and gives cleaners a letter grade corresponding to how well or poorly they rate.
You can learn more about how they come up with the rating here and you can see their rating for Clorox wipes here. The main concerns are that they can trigger asthma, skin irritations and reproductive toxicity.
On this link you can find the MSDS information for this product. MSDS stands for Material Safety Data Sheet and is a document that contains information on the potential hazards (health, fire, reactivity and environmental) and how to work safely with the chemical product.
This just reaffirms that this is a product to be handled by adults.
Now, let's talk about ingredients. I find it interesting that the Clorox site states that they cannot disclose all the ingredients due to confidentiality agreements. This is stated on their site and you can see it here.
I have a simple rule when it comes to any product: if a company is using safe ingredients, there's no reason why they wouldn't disclose them. The fact that they have this statement on their site doesn't settle well with me at all. But let's just stick to what their label says, which is that this product is not meant to be used by children.
Healthy Schools also reported on the dangers of using disinfecting wipes around children. They claim that:
Disinfecting wipes contain active ingredients that have been found to cause:

Asthma (e.g., chlorine bleach/sodium hypochlorite, peroxyacetic acid, quats.)
Cancer (e.g., ortho-phenylphenol)
Skin sensitization (e.g., chlorine bleach, pine oil, thymol).
You can find their report here.
So, as you can see disinfecting wipes are meant to be used by responsible adults and not children.
The first thing you should ask your school is how they plan to use the wipes. If they plan to keep them in the classroom for children to wipe their desks clean, I encourage you to talk to your school about this.
If your school is asking for these wipes so children can clean their desks, there are 2 options:
Ask them if these wipes can be handled exclusively by adults.
Ask them if they can use safer alternatives.
Mama Instincts' preferred alternatives:
Every school has a cleaning crew that cleans the classrooms after the children are done with their school day. So, we can limit disinfecting products to being used only then and during the school day we can stick to safer alternatives.
According to the healthy cleaning guide by the Environmental Working Group (EWG), there aren't any disinfecting wipes with a safe rating, meaning if you want to use disinfecting wipes, do not let your kids handle them or near them.
However, there are safe alternatives that can be used by children AND that get the job done:
Cleaning wipes:
Babyganics all-purpose surface wipes: The EWG rates the ingredients in this product as safer for children and they have formulated this product to be used on children's items, like high chairs and toys. This means that you can wipe a surface clean with them and you don't have to wash it with water afterwards.
CleanWell Botanical Disinfecting wipes: These are also formulated for use on children's products and do not require you to rinse the surface afterwards.
Cleaning products:
Force of Nature: This is my #1 choice because it is safe, non-toxic and can be handled by children. Force of Nature is a special machine that converts water, salt and vinegar into a non-toxic disinfectant, that is also approved by the EPA for disinfecting.
Force of Nature comes with a little machine that makes the cleaner so it's even a great learning opportunity for the children. They can watch the chemical reaction happen in the bottle – my children love to watch it.
Then they can spray the surface and use a paper towel to wipe it clean. It is probably not as convenient as the wipes, but it is a lot safer for children and just adds an extra step.
Force of Nature requires a higher investment at first since you need to buy the machine that makes the cleaner, but in the long run you end up saving money since this one product can replace all your cleaning supplies and honestly if there are 20 kids in one classroom, each parent would have chip in less than $5 to buy this.
You can learn more about Force of Nature here.
OUTBREAK UPDATE – this is the ONLY non-toxic cleaner I trust and that's EPA approved to kill the virus:
Force of Nature is a disinfectant and sanitizer that kills 99.9%

of

bacteria & viruses, and is as effective as bleach but without the toxic chemicals.
Force of Nature is on the EPA's List of Disinfectants for Use Against SARS-CoV-2, the cause of COVID-19. Force of Nature is EPA registered for disinfecting & sanitizing hospitals, ICUs, daycares, schools & more. You can find more information here.
Force of Nature has come to replace all of our cleaning supplies, and given that a lot of people don't know about it, they are NOT running low on stock. They have been kind enough to offer their product at a big discount during these times.
To get the discount on Force of Nature:
Click here on my referral link and then use the discount code that applies to your purchase:
SAFEHOME: $40 off & free shipping on Starter Kits
BUNDLEPLEASE: 25% the already discounted price on Year Supply Bundles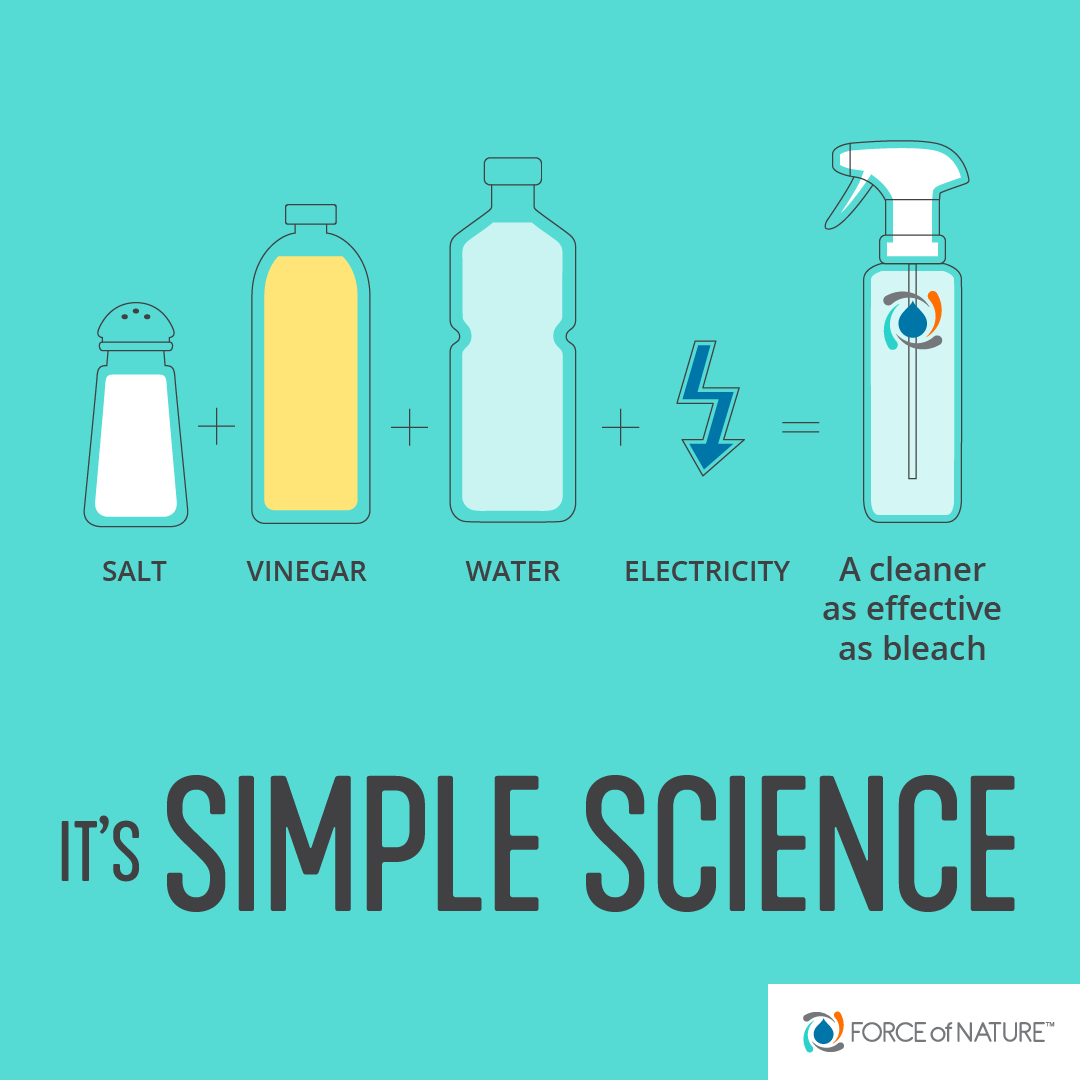 Vinegar: Vinegar is a type of acetic acid that forms through the fermentation of sugars or starches. It is completely safe and edible, and it doesn't harm little humans – a big plus! It gets the job done for what is needed throughout the day.
Making a cleaner with vinegar can be as simple as mixing water and vinegar, see the recipe here.
Hydrogen peroxide: This is also known as a bacteria killer. All you need is 3% hydrogen peroxide, spray it on the surface, let it sit for a few seconds and then wipe clean.
Puracy Natural all-purpose cleaner: You can also get a safe premade cleaner. Once again, all you have to do is spray the surface and wipe it clean.
Children's bodies are still forming and more susceptible to chemicals and endocrine disruptors. Ideally schools should only be using safe cleaning products since children come to school every day and are exposed to all the chemicals being used around the school. But this is not a change that will happen overnight.
What we can do for now is encourage the school to stick to safer products while the children are around, and especially if children will be handling these products. We can do this by sharing more information with them, and if possible, by purchasing these safer products for your children's classroom.
You can talk to the other parents and chip in for these safer alternatives!
Did you school also request Clorox wipes? Let us know in the comments if they did and how you are handling this.