Outbreak update:
Force of Nature is a disinfectant and sanitizer that kills 99.9%

of

bacteria & viruses, and is as effective as bleach but without the toxic chemicals.
Force of Nature is on the EPA's List of Disinfectants for Use Against SARS-CoV-2, the cause of COVID-19. Force of Nature is EPA registered for disinfecting & sanitizing hospitals, ICUs, daycares, schools & more. You can find more information here.
Force of Nature has come to replace all of our cleaning supplies, and given that a lot of people don't know about it, they are NOT running low on stock. They have been kind enough to offer their product at a big discount during these times.
To get the discount on Force of Nature:
Click here on my referral link to get 40% off your purchase.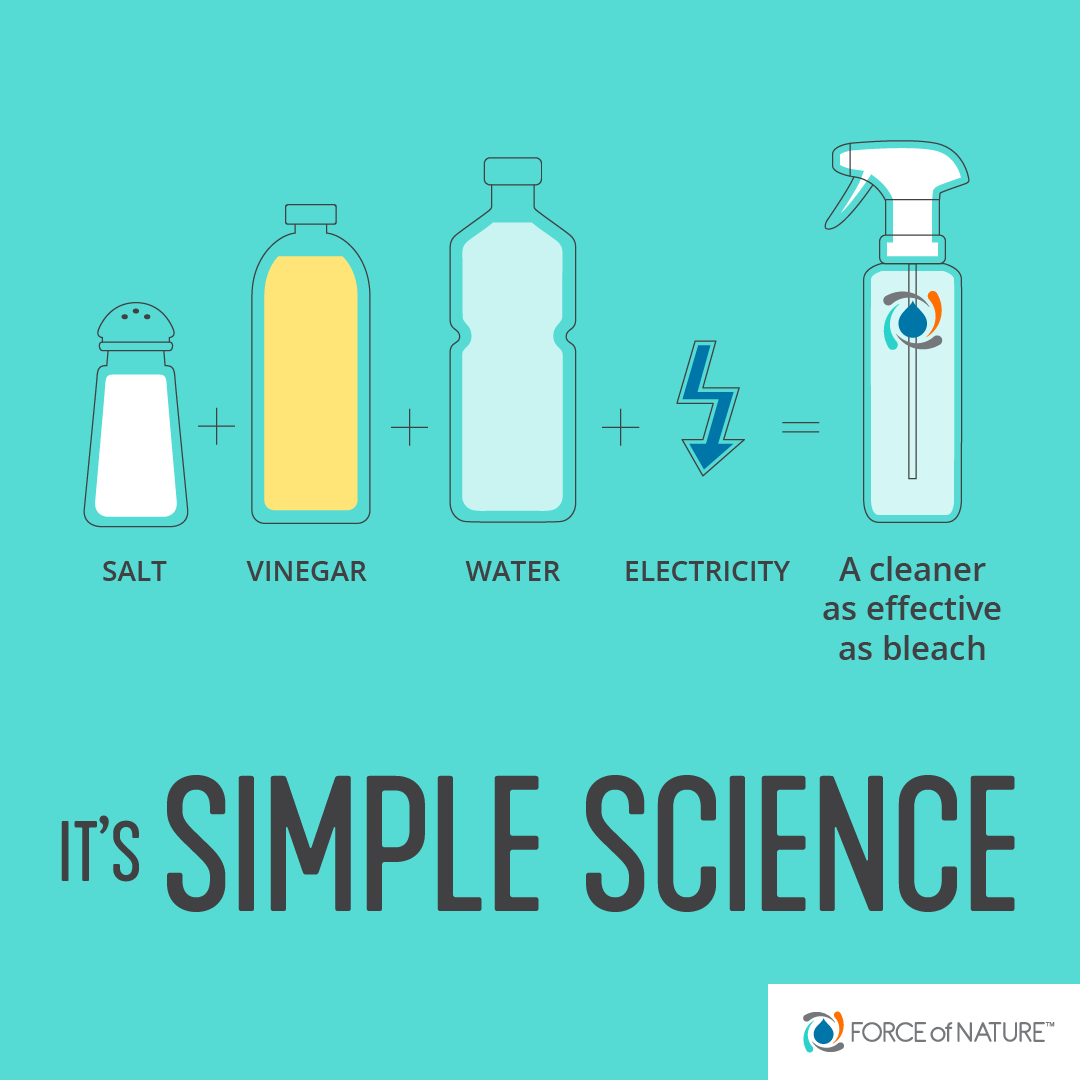 ---
When I had my first child I started researching what's in the food we eat, the products we use and our environment. To make a long story short I was not happy – there are toxic chemicals everywhere, from toys to cleaners. It was then when I decided I would do my best to minimize exposure.
Over the years I have learned to read labels, understand ingredients and figure out what to stay away from. I can't say I'm an expert nor that I will ever be because new information is always coming out. I do my best to stay updated and research as much as I can so I can give my kids a clean start in life.
A lot of the toxic chemicals we're exposed to don't harm us right away. Instead they accumulate over time in our body causing all sorts of havoc later on and manifesting as allergies, disease, sickness and even cancer.
I tell my friends, "we can't keep our kids away from toxic chemicals but we sure can MINIMIZE their exposure". The best way to minimize exposure is by keeping your home free of toxic chemicals. If you're just beginning your journey, start with the things that are used regularly, like cleaning supplies.
For a long time I made my own cleaning products and although they worked most of the time, there were times I felt like I needed something better, stronger. Over the years I have tried my share of green cleaning supplies but the problem is that some of them contained ingredients I later found out were linked to health issues or they weren't any better than what I was making.
I really wanted to find something that worked for every surface, really disinfected and that was non-toxic. One day while scrolling through my Facebook feed I saw an ad for "Force of Nature". It claimed to be a non-toxic cleaner that you make at home with a special machine they created.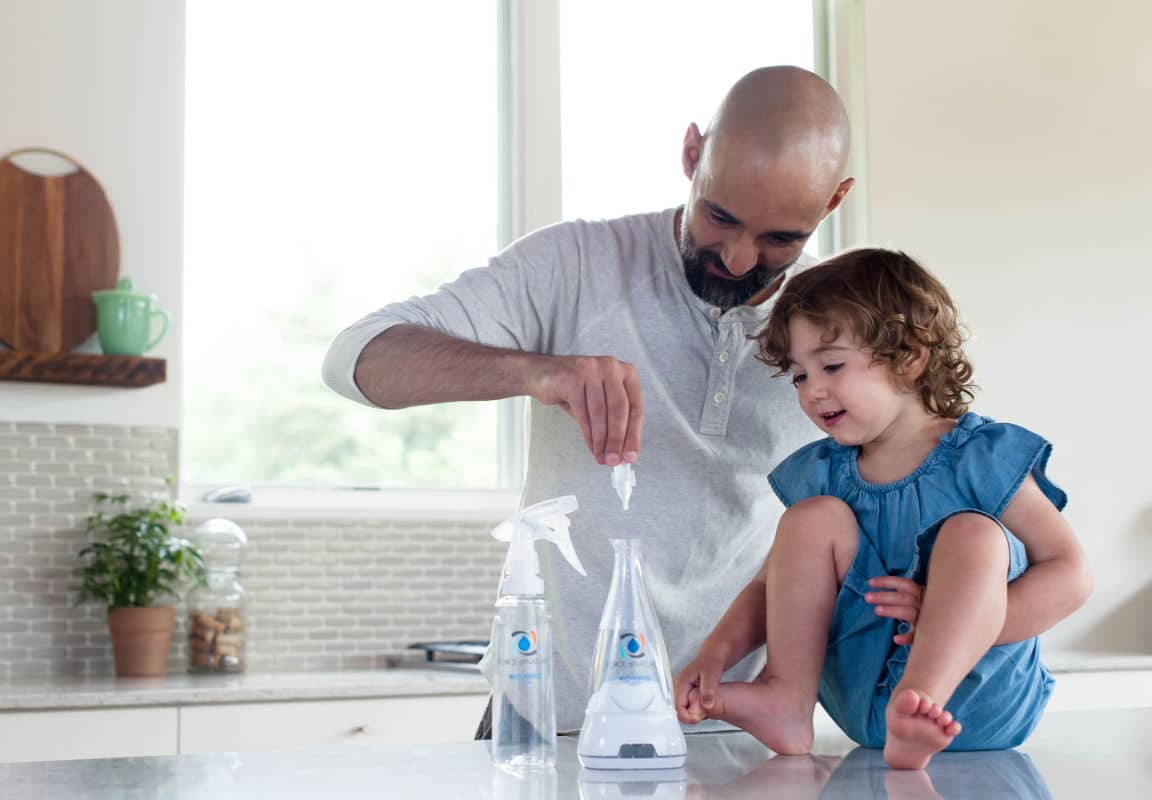 This post contains referral links.
I was intrigued so I started researching the product and eventually reached out to them so we could partner. I asked them to sponsor this post because I wanted every one of you to know about this very unique, non-toxic cleaner that would change your life. I also wanted a special discount code for my readers, which they were kind enough to provide (you can find it at the end of this post).
Force of Nature
In a nutshell, Force of Nature is a small appliance that turns water, vinegar and salt into an all-purpose cleaner and deodorizer that is as effective as bleach but without the toxic chemicals.
Of course at first I was skeptical so I decided to learn more about this technology and test the product.
Force of Nature miniaturizes a technology from the industrial space called "electrolyzed water". The electricity put out by the machine changes the chemistry of salt, water & vinegar into a non-toxic cleaner with the active ingredient hypochlorous acid. Hypochlorous acid is common in eye, wound & veterinary care products because it's so safe & effective. I also discovered that hypochlorous acid is what your white blood cells produce to fight infection in your body. How cool is that?
It is also free of fragrances, dyes, preservatives, allergens or irritants, and of course, non-toxic. It is so gentle that you can even wipe your kids toys with it!
What blew my mind is that it works on every surface, including sealed stone, glass, stainless steel, wood, laminate, porcelain, plastic, rubber, stuffed animals and even rugs. I didn't just take their word for it. I actually have been using Force of Nature on every corner in my home and I am pleasantly surprised with how well it works.
Plus, Force of Nature replaces every other cleaner, so you won't have to have lots of bottles to clean different parts of your home. All you need is one bottle of Force of Nature for all your cleaning needs – it's pretty amazing! You can see here how it compares to other cleaners.
I feel like I finally found the perfect cleaner! I love this so much that all of my close friends and family are getting one of these little appliances for Christmas!
The Science Behind Force of Nature
This short video does a great job at explaining how Force of Nature creates a non-toxic cleaner. You can also read more about electrolyzed water here and more about the science here.
I know what you're thinking, if this is so good why hasn't it been sold before?
Well turns out electrolyzed water has a life span of about 2 weeks, so you can't really sell it in stores since the shelf life is so short. This is exactly why you have to get a special machine that makes the electrolyzed water in your own home.
As a mom that doesn't take a company's word for anything, I asked if they had done third party testing and of course they have. You can find the lab test results are here. Also, Force of Nature has been given the highest safety rating by SkinSafe, the Mayo Clinic's rating system for product safety for skin allergies- you can find those results here.
Is it expensive?
Absolutely not and keep on reading to see why!
You have to buy a starter kit, which includes the small appliance that makes the non-toxic cleaner. This starter kit comes with 5 activator capsules (the capsules is what has the vinegar and salt). This comes out to $89.99 but if you get it through this link, you can save $35 on the starter kit, so it really costs you $54.99.
Each capsule makes a non-toxic cleaner that lasts 2 weeks. You might use end up using the whole bottle in less than 2 weeks but to make math simple, let's say it lasts you the full 2 weeks (that's what it lasts me in a 1300 sq. ft. apartment).
There are 52 weeks in a year, so you will need 26 capsules. A set of 25 capsules costs $19.99 (or $18.99 if you get it through their subscribe and save program). So the total for one year of cleaner comes out to $74.98.
Now that may sound a lot to you but keep in mind that you only buy this appliance ONCE, so after the first year your only expense will be the capsules. Also, this cleaner replaces every single cleaner you currently own. When I did the math I spent over $150 in non-toxic cleaners a year, so you're actually saving money with Force of Nature.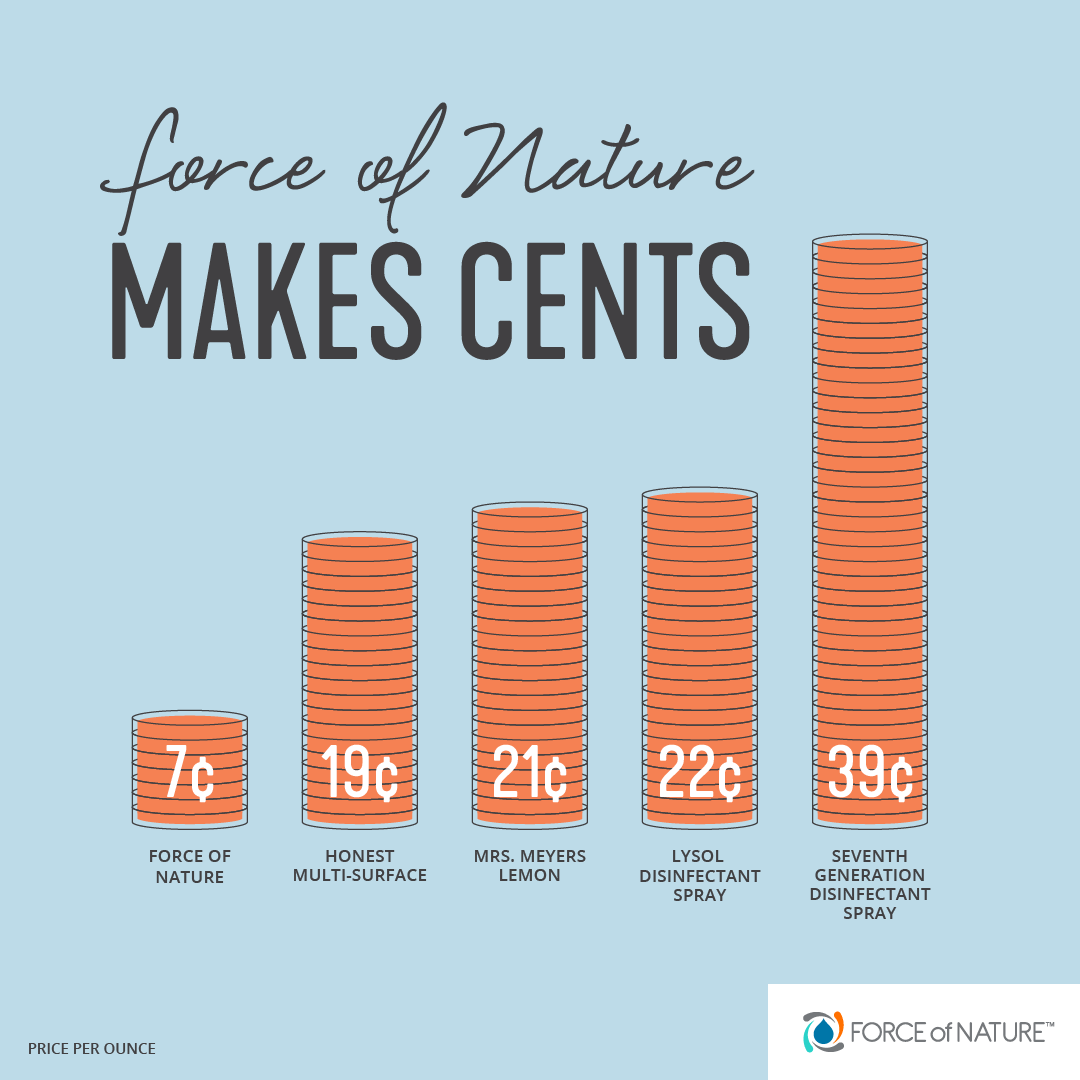 So not only are you saving money, but you're buying the most effective non-toxic cleaner out there!
Also, keep in mind that when you don't buy lots of different cleaners, you are wasting less, which is great for our planet.
Why should you use Force of Nature instead of vinegar?
I have used vinegar to clean a lot of things in my home but there are some drawbacks. First of all it has an intense smell that's not too pleasant but the biggest drawback is that it is not safe to use in stone surfaces, like granite, marble, travertine, limestone or onyx.
Plus vinegar isn't as effective as toxic cleaners like mainstream cleaners but Force of Nature is. Their electrolyzed water is just as effective without it being toxic. It's so safe that you can even have your little ones help you clean!
My review on Force of Nature
I have using Force of Nature for several months and I am hooked! It has replaced all of my cleaners and I even stopped making my homemade cleaners because Force of Nature cleans so much better. Plus let's face it, it is a lot easier to make than any other homemade cleaner, check it out:
Here's why I love Force of Nature:
I can clean everything with it! When I say everything, I mean everything: kitchen, bathroom, floors, windows, furniture, toys, etc.
It's safe enough for my kids to use so now my little helpers are helping me clean the house on a regular basis.
It is non-toxic so it can be used on kids toys and baby items. I love to use it to clean out non-toxic play mat since it gets pretty dirty on a regular basis.
It really cleans! Not too long ago our bathroom sink got some gunk on it (thanks to my toddler) and it wasn't coming off. I sprayed it with Force of Nature, let it sit for a few minutes and then I was able to clean it all.
It is the most economical option.
It is non-toxic and only uses THREE ingredients: water, salt and vinegar! This is the biggest reason why I love it!
Every now and then I will find a product that I love and think it's revolutionary, Force of Nature is this product. I am a completely fan and I hope you give it a try so you too can have a clean toxin-free home. Seriously, it's AMAZING!
Have more questions? They have a pretty thorough FAQ section on their site to answers to every possible question you could have. Check it out here or leave a comment at the end of this post.
Where to buy it? Want a discount?
You can get it directly on their site, but if you click on this Force of Nature discount code you can get $35 off your starter kit. This is the best deal I've found.
You can also get the starter kit and capsules on Amazon but the $35 off deal I shared only applies on their site and not on Amazon
Have you tried Force of Nature? What do you think of it?